text.skipToContent
text.skipToNavigation
0
Products to compare
Compare
Clear
eco3.product.initProductDetailsPage();
Pipette Tips RT LTS 250µL SW 960A/10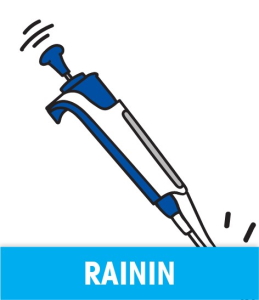 Pipette Tips RT LTS 250µL SW 960A/10 | ShopRAININ
Wide-Orifice LTS Tips
Ideal for delicate samples

Wide-orifice tips minimize shear forces on delicate samples, such as mammalian cells or high-molecular-weight DNA, and reduce flow resistance on viscous samples.

Convenient tip rack

Innovative new tip rack features a special "bi-functional" hinged/lift-off lid and front latch for secure, one-handed operation. Fast loading, protects tips from contamination and autoclavable.

LTS tip design

Feel the difference with the Rainin LiteTouch System. LTS dramatically reduces the amount of force required to load and eject tips. The result: less fatigue and less stress on hands and arms.
Product Specifications
| | |
| --- | --- |
| Tip Technology | LiteTouch System (LTS) |
| Volume | 250 µL |
| Filter | No |
| Speciality format | Wide Orifice |
| Sterilized | Yes |
| Maximum Volume | 250 µL |
| Amount/Quantity | 960 tips in 10 racks |
Logistic Specifications
| | |
| --- | --- |
| Country of origin | US |
| Customs tariff number | 8479909596 |